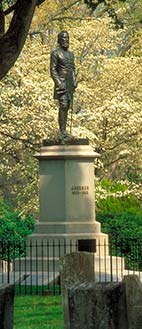 VISIT
LEXINGTON AND ROCKBRIDGE COUNTY
Rockbridge County was formed in 1778 and has two small cities: Lexington (the county seat) and Buena Vista. The county is also home to two towns, Glasgow and Goshen, and several villages.
The county's landmarks include massive natural wonders: the Natural Bridge, Goshen Pass, Panther Gap, Balcony Falls and House Mountain. All are within easy driving distance through a panorama of mountain scenery, rolling hills and inviting forests.
Lexington is a quiet college town just west of the Blue Ridge Mountains and 185 miles southwest of Washington, D.C., at the southern end of the beautiful Shenandoah Valley. Lexington is home to the Virginia Military Institute, where Thomas J. "Stonewall" Jackson taught, and Washington and Lee University, where Robert E. Lee served as president after the American Civil War. The town features a large number of well-preserved early buildings that line the business and residential streets. The town is also the final resting place for both Stonewall Jackson and Robert E. Lee. For information on accommodations, travel, or more about the area, visit the Lexington and Rockbridge Visitor Center.