HISTORY
JACKSON BIOGRAPHY
FAQs
Thomas Jonathan Jackson lived in Lexington from 1851-1861, while he was a professor of Natural and Experimental Philosophy and an instructor of artillery tactics at the Virginia Military Institute. During that decade Jackson joined the Lexington Presbyterian Church, married, bought the only home he ever owned, and lived quietly as a private citizen.
Jackson was born in western Virginia (now West Virginia) to Julia Neal Jackson and Jonathan Jackson on January 21, 1824. Thomas was orphaned at a young age; his father died when Thomas was two, and his mother when he was seven. Jackson was raised by extended members of his father's family, mainly his uncle, Cummins Jackson. As a young adult, he was employed as a constable (debt collector) and a teacher before he was appointed to attend the United States Military Academy at West Point in New York.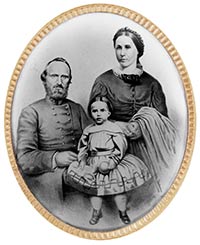 Jackson graduated from West Point, served in the U.S. Army, fought in the Mexican War, and was later stationed in New York and in Florida before he was appointed Professor of Natural and Experimental Philosophy at the Virginia Military Institute. He moved to Lexington and settled into life as a civilian, eventually marrying Elinor Junkin in 1853. Ellie died in October, 1854, as a result of childbirth. The baby, a boy, was stillborn.
Taking time to grieve, Jackson turned to his faith for help. In 1857 he courted and then married Mary Anna Morrison. Jackson and Anna, as she was called, purchased their home on Washington Street in 1858. The two settled in and made a home for themselves. Jackson enjoyed caring for his own home, and cultivating the kitchen garden located behind the house.
In April, 1861, Jackson rode off to war. Following the first battle of Manassas, Jackson became widely known by the nickname "Stonewall." Jackson earned lasting fame for his leadership of Confederate forces, especially during the Valley Campaign of 1862. "Stonewall" Jackson died on May 10, 1863, as a result of complications from wounds received at Chancellorsville along with pneumonia. His body was brought back to Lexington for burial in the cemetery on the south edge of town.
Left image: Thomas J. Jackson by Samuel Pettigrew, 1857. Right image: Composite of Thomas, Mary Anna, and Julia Jackson by Myers & Median, 1866.