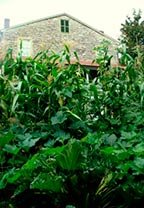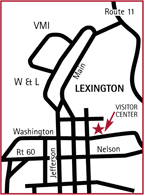 VISIT
DIRECTIONS
Lexington, Virginia, is a quiet college town, located 185 miles southwest of Washington, D.C., at the southern end of the beautiful Shenandoah Valley. It is at the junction of I-64 and I-81, approximately 135 miles from Richmond, Virginia and 54 miles from Roanoke, Virginia.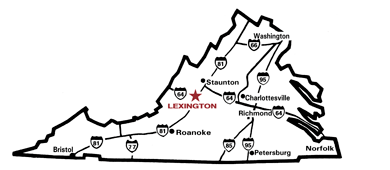 Directions from I-81 and I-64
Look for the Stonewall Jackson House signs at Lexington, Virginia, exits 188B and 195 off Interstate 81 or exit 55 off Interstate 64. Follow the Historic Lexington Visitor Center signs to Washington Street in downtown Lexington. The Stonewall Jackson House is located one block west of the Visitor Center. Click here for Google Maps directions
PARKING
Public parking is available at the Visitor Center on Washington Street. Additional parking is also available in the Courthouse Parking Garage, which is accessible on Randolph Street between Washington Street and Nelson Street.
Two-hour parking spots are available on the street throughout downtown.
A ten minute parking space located across the street from the museum is available for two hours to visitors who have a Disabled Parking Placard or Disabled License Plate.