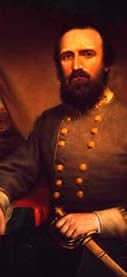 15th Biennial Stonewall Jackson Symposium

- Overview




THOMAS J. "STONEWALL" JACKSON was a devout and conscientious college professor from western Virginia who became one of the world's great generals.  The name "Stonewall" had become nearly a household word by the time Jackson died as a result of wounds received at the Battle of Chancellorsville in 1863.

Thomas J. Jackson lived in Lexington from 1851-1861, while a professor of Natural and Experimental Philosophy and an instructor of Artillery Tactics at the Virginia Military Institute.  In Lexington, Jackson joined the Presbyterian Church, married, bought a house, planted a garden and lived quietly as a private citizen.

The fifteenth biennial Stonewall Jackson Symposium, sponsored by the Stonewall Jackson House, will provide an opportunity to examine the career and personality of this complex and fascinating man.  Lectures by historians and biographers currently involved in research will explore Jackson's career as a teacher, his inability to choose successful subordinates, his narrow victory at Cedar Mountain, his leadership on the field of battle, his relationships with other generals, and the lasting legacy of his death.

While in Lexington, symposium participants are invited to visit the only home that Jackson ever owned, the Virginia Military Institute where Jackson taught, the campus of Washington and Lee University where he once lived, and to explore the streets of the town he loved. 

THE STONEWALL JACKSON HOUSE is one of three museums operated by the Virginia Military Institute Museum System.  The Stonewall Jackson House receives no state funds.  Support for the House comes from admission fees, sales of books and other items in the Museum Shop, contributions, and grants from foundations or agencies through the VMI Foundation.  Proceeds from the symposium help support the House and its programs.  Contributions to the VMI Foundation to preserve the Stonewall Jackson House and support its ongoing programs are welcome and are tax deductible to the extent allowed by law.